This past weekend was my town's annual festival, Milk Days, and Saturday my old college roommate got married. It was a crazy weekend.
Friday night I went to the carnival with my boyfriend (Howie), my mom and her friend's two kids. Howie won a goldfish for the kids (which, five days later, is already dead) and I won a big Wicked Witch at Whack-a-Mole. I gave that to the kids, too. The next morning I got up early to run the Milk Days 10k with my dad. He walks but he's almost as fast as I am running. It took me an hour and 11 minutes; enough to win me a 7
th
from last place. Then out to breakfast with my dad (french toast,
hashbrowns
and fruit, oh my!) and home to quickly shower and get ready for the wedding. I had one hour. We had a hotel room all lined up for after the wedding and I totally forgot to pack. So I threw some stuff in a bag, freaked out a little and we were off.
We had to stop to duct tape the windshield wiper and then we were off... again. An unexpected detour added half an hour to our time and I was seriously wondering if we were going to make it before the "I do"s. We had left an hour later than I'd anticipated, after all.
The wedding was set to start at 1:30 and we made it by 1. It was at the Morton Arboretum in Lisle, Illinois. It would have been nice if we'd had time to wander around but it was starting to rain. And we left the umbrella in the car. I also hadn't anticipated my feet being swollen from the 10k
when I picked out shoes for this shin-dig. My
pinky
toes started to go numb. I made Howie go to the car for the umbrella. My other two old
roomies
, Christine and
Bre
, were supposed to meet us. They said they were on their way but 1:30 rolled around and people were getting seated. They showed up fashionably late.
The wedding was nice and short and the rain held out for the most part. Sandra looked awesome and her dress was super pretty.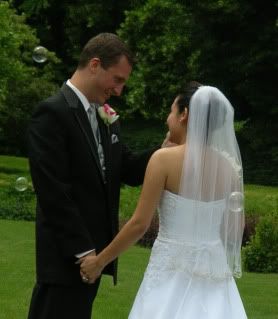 At the reception, we were seated at a table with a horrible guy who worked in advertising and talked nonstop the whole time. I made Howie and Christine dance with me. And I dragged Christine up during the throwing of the bouquet. She didn't want to go and stood in the back. The bouquet bounced off my hands and landed right in hers.
Hee
hee
.
It was good to see my old
roomies
again. We hung out and ate good food. Good times.
The next day Howie and I drove home and went to a Banana Derby, where monkeys ride on dogs.. beyond cute! We got our picture with a monkey, a lynx and one of those old
timey
things. It was super fun!
Yay
!