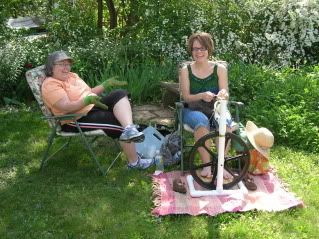 Yeah, I know it's June and Memorial Day was last month, but I like to procrastinate. I actually had to work on Memorial Day (double-time, woo!) but this is how I spent my weekend. I got that awesome spinning wheel from a
Ravelry
friend, Natalie. It's made from PVC p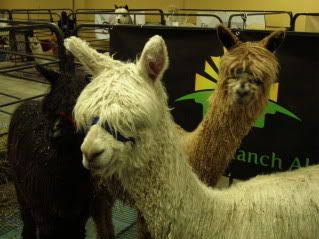 ipe
but it does the job. It's the first wheel I've ever used. I spent the whole day spinning from a bag of alpaca fleece I got from the Midwest Alpaca Fest. It was nice to actually meet the animal your fiber is coming from (a sweetie named Ashley). I also met up with my dad's friend who had alpacas in the show. I was supposed to go help out on the farm sometime but I'm moving to
Eau
Claire in two weeks. Natalie lives there so it's going to be nice to have a fellow knitter to obsess about yarn with. I actually spent Saturday spinning up a
batt
she handmade for me on her new drum carder. Super exciting! It was my first time plying yarn, too. I think I could have added more twist plying, but I'm still learning. The yarn still came out pretty awesome, by far the best I've made yet. You can't tell in the picture, but it has some sparkle to it. I call it Mermaid. The pink was my first attempt at spinning on a wheel. That fiber was also given to me by Natalie.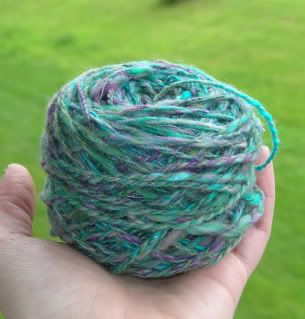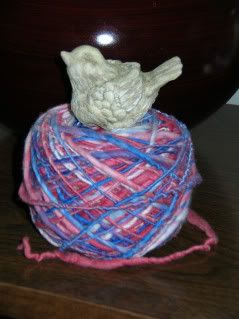 So yeah, I'm totally addicted to spinning and all things
fibery
. I must have spent 8 hours outside spinning and listening to Harry Potter books on tape. You can keep your days at the spa, I was SO relaxed after that. Best day EVER!