I love
Ravelry
.
I spend a sick amount of time on there and I love to do yarn swaps. My favorite is the Vegan for Every Season group swaps. This
swap's
theme was "Love Veggies/Mother Earth" so I was super excited. Of course I had to work yesterday when my package came and had to go to the post office after work to pick it up. On my way there I noticed a garage sale with a certain awesome thing out front that I had to own. So I bought it.
Yay
!!! She's super old and crusty and has nails sticking out of her head. I love it. And I found a snake charmer flute. It needs a reed but she threw it in free when I bought the mannequin.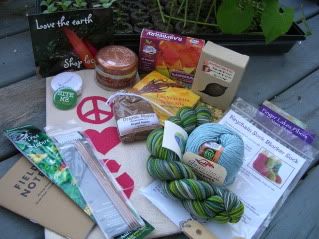 And then I get my awesome package. There were so many goodies in there, it made me feel bad for the package I sent her.
And also, because I never got off my lazy butt to write a blog about it, I wanted to show off my ball winder and swift I got from Howie for our 7 year anniversary. I promise my blogs will be more timely and cohesive from now on. :p